Updated Ordering Materials for 2019
We are so excited to announce that all new ordering materials for 2019 have been released! This includes a brand new Order Form, Dealer Handbook, 20/20 catalog and even a Custom Cabinet Request Form! All of these documents will be required for submitting cabinet orders as of January 15th,  2019.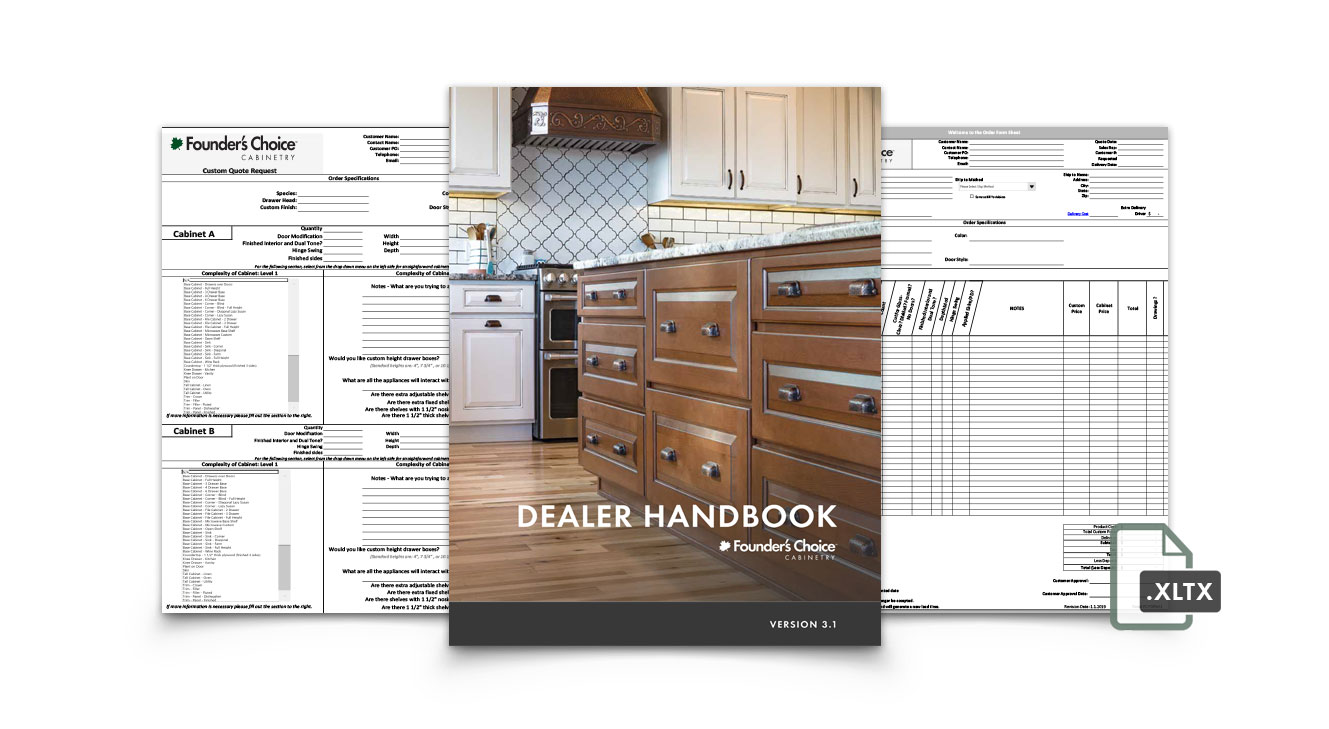 Our team has made every effort to ensure that these materials make ordering from Founder's Choice easier, and faster than ever. For more information on how to use these forms – and updates that were made – please read on.
Dealer Order Form – 
Version 01.04.2019
The newest Order Form has been updated with new SKUs and cabinets that we have added in the last year. It also has new features such as a Error Message Meaning tab to help you understand any errors that may come up in submitting your order. 
Read the Order Form's Instruction tab to learn more about using the form, and any updates that have occurred.
Dealer Handbook – 
Version 3.1
Our Dealer Handbook has been updated to reflect all of the changes we made to our products in the last year. Some sections have also been reorganized to make the book easier to read and reference. It also contains screenshots of the new Order Form and Custom Cabinet Request form to help you reference the right files to use.
We have also added new features to help with the functionality of the digital version of our Dealer Handbook. The "Contents" page now works as a functioning guide to the book. Clicking on a subheading within the page will take you to the corresponding section of the book. Within Google Chrome and Adobe Acrobat, you can also use the "Bookmarks" panel from any point in the book to jump from section to section.
20/20 Catalog – 
January 2, 2019 upload
A new 20/20 catalog has been designed with all of the new cabinets and features that we have added in the last year.
Custom Cabinet Request Form – 
2019 Update
Please note that this form has not yet been uploaded.
Our Custom Cabinet Request Form has gotten a complete overall to improve the process of designing a custom cabinet order. The new form now includes dropdown fields to help you describe the features of the cabinet you want built.
Our hopes are that this form improves communication between the dealer and our engineering team to make the order process flow more smoothly in the future.